Funniest 80th Birthday Jokes
80th birthday jokes that'll make you giggle like a baby. Turning 80 is something to joke about, so here's some hilarious stuff to help you hit the high notes. Heck, the jokes and humorous quotes on this page might even make you laugh your "years" off. Cheers!
---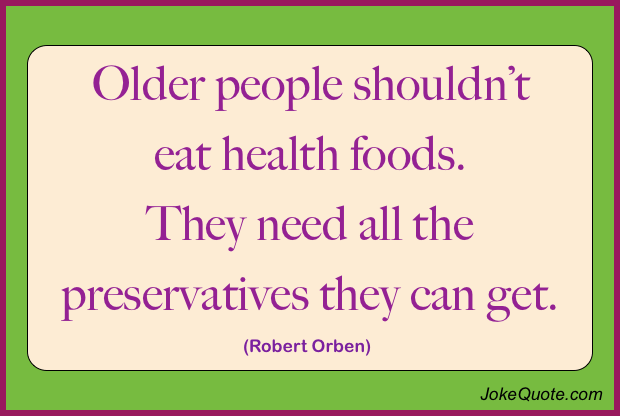 80th Birthday Jokes: One Liners
Jack turns 80 today. Now he can spend his days eating, snoozing, and searching for the stuff he had just a few minutes ago.
How do you get a sweet little 80 year old lady to say the f-word?
Get another sweet little 80 year old lady to yell BINGO!
Statistical studies prove that at the age of 80, there are four females for every male.
Hell of a time for a guy to get odds like that.

Turning 80 and thinking about what tattoo to get? You might want to consider your name and address...

By the time my mom turned 80 she was leaving little post-it notes to herself all over the house, and wondering who they were from.

80th Birthday Jokes:
More One Liners
I got an iPad for my 80 birthday. It's the large print version of an iTouch.

At 80 years old your bones get softer, but your arteries get harder, so it balances out.

Turning 80 means your favorite romantic song is probably now a laxative commercial.
You new theme song is "I've Got Boobs In Low Places."

80 years old is when you tell somebody, "I must be losing my memory" and they say, "I know, you told me yesterday."
Birthday Tip: When you go to the Health and Safety class at the Senior Center, and they ask you what steps you would take in the event of a fire, "Really Big Ones" is the wrong answer.

By the time you're eighty years old you've learned everything. You only have to remember it.
- Bill Vaughan
Welcome to JokeQuote.com
The only place you can find...
This

hilarious

new game...
An

amazing

collection of jokes...
That will make your party, dinner, or meeting a riot...
Milk

Snort!

the

Joke
Game
Hit the play button and take a look.
Safe, secure download - huge discount - only $2.99
Use your Paypal account or a credit card.

60 day money back guarantee.
PURCHASE NOW
Or click here for more info and dozens of testimonials.

80th Birthday Jokes:
"Doctor's Orders"

An 80 year old man goes to the doctor with his wife.
After the exam, the physician pulls the wife aside, and says, "I'm afraid your husband has an advanced stress disorder. He'll die very soon unless you do exactly as I tell you: 
Always be sweet and pleasant.

Each morning, fix his favorite breakfast.

Prepare delicious, healthy meals and snacks.

Encourage him to nap whenever he wants.

Don't let him do any chores.

Under no circumstances nag him about anything.

Give him regular massages.

Make love at least twice a week.
Keep this up for a year, and he'll return to a state of near-perfect health for his age."
Later in the car, the husband asks his wife what the doctor told her.
She replies, "Honey, he said you're going to die soon."
At Eighty:
You wear your pants so high that you've cut holes in the crotch to see through.
You know everything, but nobody asks you.
You still read the print edition of the newspaper, and what you like best is "Forty Years Ago Today..."
You tell your great grandkids that when you were their age, going to the movies cost less than a pack of gum today.
You no longer chew gum because of what it does to your dentures.
You've always wanted to shoot your age at golf, but you always shoot your weight.
You're becoming very fond of barbershop quartet music.
It doesn't matter where your spouse goes, just as long as he/she can find their way back.
You feel certain your anti-wrinkle lotions really work.
You're not elderly, you're "chronologically gifted."
80th Birthday Jokes:
"Visiting Grandma"
A young man's grandmother was turning 80 and had moved into a new condo. He wanted to drop by, see her new place, and wish her happy birthday.
He called her and she instructed him as follows:
"Park in front of the building and come to the main door. You'll see a big panel on the right. With your elbow, push button 115. I'll hit the buzzer and I'll let you in. Walk inside and turn right for the elevator. Get in, and with your elbow press number 115. Walk out of the elevator and turn left. Come down the hall to 115 and ring my doorbell with your elbow."
"Grandmother," he says. "That's easy enough, but why the heck am I pushing all these buttons with my elbow?"
"What?" she replies. "You're coming empty handed?"
80th Birthday Jokes:
Humorous Quotes
Nothing is more responsible for the good old days than a bad memory.
- Franklin Pierce Adams
I'm still chasing girls. I don't remember what for, but I'm still chasing them.
- Joe E. Lewis
When I was younger, I could remember anything, whether it happened or not, but I am getting old, and soon I shall remember only the latter.
- Mark Twain

Older people shouldn't eat health food, they need all the preservatives they can get.
- Robert Orben

Always be nice to your children because they are the ones who will choose your rest home.
- Phyllis Diller
80th Birthday Jokes:
"Sand Traps"
A woman turned 80 years old. She was an avid golfer, so she decided to move to Florida and join a country club.
On her first day at her new club, she was told that there wasn't anybody else available for a game just then.
Seeing her disappointment, and wanting to make her feel welcome, the female assistant pro offered to play with her, and asked her how many strokes she wanted for a bet. 

The older woman said, "I don't think I need any strokes, I've been playing great lately. I just have a heck of a time getting out of sand traps."
True to her word, the 80 year old played beautifully. When they came to the par four 18th, she and the pro were all even.
The pro hit a gorgeous tee shot, knocked her next one on the green, and two-putted for par. The older lady hit a great drive, but her second shot landed in a steep-sided bunker next to the green.
Playing from the sand, she lofted a high, soft shot. It came down a few feet from the cup and rolled in for a birdie, winning her the match and all the money.
The 80 year old was still standing in the trap when the pro walked over and said, "Beautiful shot! I thought you said you had a problem getting out of traps?"
"I really do," the 80 year old replied. "Would you mind giving me a hand?"
If you got this far down the page without ordering


Milk

Snort!

, check out this testimonial:


Get it now at 40% off: only $2.99
Use Paypal or your credit card.

60 day unconditional guarantee.
PURCHASE NOW
Or click here for more info and dozens of testimonials.
More jokes like this? Try these:

Clean Funny Senior Citizen Jokes
Or back:

Return from "80th Birthday Jokes" to "Birthday Quotes And Jokes"
Return to Home Page: "Funny Jokes, Funny Quotes, Funny Sayings"