Funny Irish Jokes
Funny Irish Jokes that'll keep you smiling like you just found a pot of gold at the end o' the rainbow. With or without a couple of wee pints. Cheers!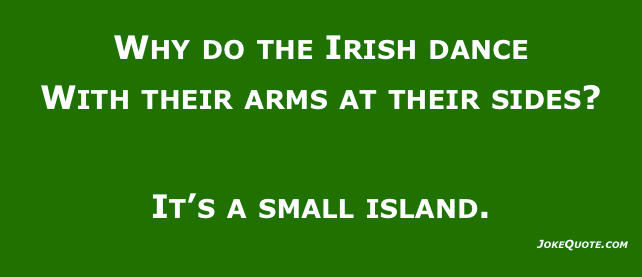 Funny Irish Jokes:
Service Dog?

O'Malley's wolfhound died and O'Malley was despondent. He decided to ask the local priest for a favor.

"Father," O'Malley said, "is there any way you could say a mass for my poor dead wolfhound? He was a lovely animal, he was, and I'd like his soul to be at peace."
"I'm afraid not," replied the priest. "We can't be sayin' mass for animals now. The church forbids it. But you might ask the Protestants. There's no tellin' what those heathens will do."
"Okay thanks, Father, "said O'Malley. "By the way, do you think 5,000 Euros would be enough to offer them for the service?"
"My God, O'Malley!" exclaimed the priest. "Why in heaven's name didn't you say the dog was a Catholic?!"
Funny Irish Jokes:
Lively Confession

Mary left Cork for New York, determined to make it as a dancer on Broadway. After much hard work and determination, she became very successful. She was working steadily in big productions, and well known for her remarkable acrobatic ability.

On a visit home to see her family, she stopped in for confession at the church she had attended growing up. Father O'Malley recognized her, and asked about her work abroad.

She told him about her acrobatic dancing, but he wasn't sure what that meant. So she offered to show him a short routine from one of her musicals on Broadway. He said he would love to see that.

They came out of the confessional, and she proceeded to do an impressive routine of hand springs, back flips, leaping splits, and cartwheels.

Three older ladies, sitting in the pews waiting for the confessional, watched Mary's display after coming out of confession. They were aghast. One exclaimed, "Would you look at that penance the Father's givin' out today, and me without me good bloomers on!"
---
Funny Irish Jokes:
Mistaken Identity

Muldoon was visiting Boston for the first time, and out for a stroll. He came to a busy intersection where a traffic officer was directing cars and pedestrians. Every so often the cop would stop the cars and shout, "Pedestrians cross!"
Muldoon watched for about 20 minutes until he couldn't take it any more.
When there was an ebb in the flow of cars, he shouted to the traffic cop, "Pedestrians! Pedestrians! When are you going to let the Catholics cross?"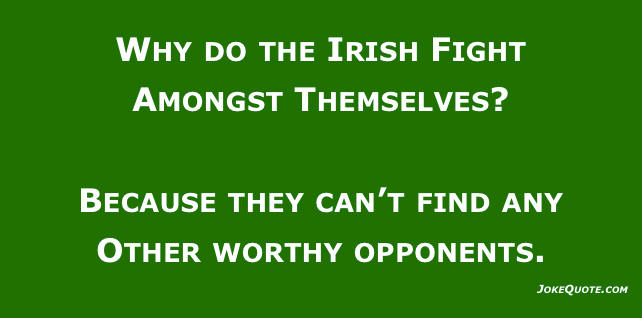 ---

Funny Irish Jokes:
Toasting Me Wife

Michael O'Reilly regularly attended the gentleman's toasting club at his local pub. One night after several pints, the barman offered a prize for the best toast.

O'Reilly, inspired, raised his glass and said, "Here's to spending the rest of me life between the lovely legs of me wife."

That won him a round of applause and the prize for the best toast of the evening.

Later, he told his wife about his accomplishment, and she asked what he had toasted.

O'Reilly told her, "Here's to spending the rest of me life attending mass with me wife."

"O'Reilly, that's a lovely toast indeed!" she said, and gave him a kiss.

The next morning O'Reilly's wife bumped into a member of the toasting club on the street.
The man gave her a cagey smile and said, "O'Reilly got the toasting prize last night with a toast about you, Mazie'."

She replied, "And wasn't I surprised! He's only ever been there twice. The first time he fell fast asleep, and the other time I had to pull his hair to make him come!"
Funny Irish Jokes:
Rescued In Style

An old Dubliner had been marooned on a remote island for many long, lonely years. One day he saw a boat on the horizon, coming closer and closer. Finally it stopped, and a beautiful auburn-haired lass came ashore. She was smiling and wearing a heavy raincoat.

She unzipped a pocket of the coat, pulled out a flask of Jamesons, and said, "I'll bet you could use a large pull of Irish whiskey."

"Oh my God," he said, "you have no idea!" And drank it down in one huge gulp.

She unzipped another pocket, saying, "And I'll bet a good cigar would go very nicely with that whiskey."

She gave him the cigar, lit it for him, and watched his eyes glaze over with pleasure at the heavenly smoke.

Then she slowly started to unzip her raincoat from the neck down. As she did so, she said, "And right about now I'll bet you're thinking you'd really like to play around."

He was absolutely stunned. "Oh my God! Really?" He exclaimed. "Don't tell me you've got golf clubs in there too!"
---
Funny Irish Jokes:
Useless In A Fight

Brian the goalie came straggling onto the pitch like he'd been run over by a truck. His arm was in a sling, he was limping on his left leg, with one eye swollen shut and his face more bruised than not.
"Good Lord, Brian!" said Kevin the midfielder, "What in God's name happened to you?"
"Ah, I had a physical disagreement with Tommy Farrell," he said.
"That wee munchkin?" said Kevin. "He's much too small. He's must have had something in his hands."
"Aye, a garden shovel," said Brian," and he hit me several times with it."
"Good God, Brian," said Kevin, "was there nothing you could use to defend yourself? Didn't you have anything in your own hand?"
"I did indeed," replied Brian. "Mrs. Farrell's breast. And it's a thing of beauty, it is, but useless in a fight."
---
More Irish Humor? We got all you want!
Or go back to "Really Funny Jokes"
Or go back to the Home Page: "Funny Jokes, Funny Quotes, Funny Sayings."